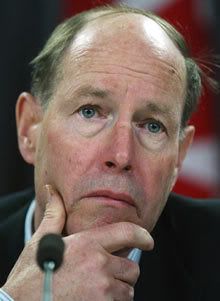 David Dodge needs to get his supply/demand terminology straight. Rather than fretting over the "inexhaustible supply of debt" to finance the takeout of public Canadian companies, perhaps he should take the time to realize that this is actually the demand side of the equation, not the supply side. Private equity has demand for investments. Canadians have demand for investments. The demand for investments on the part of Canadians is most acute for those 70% of Canadians who are not members of pension plans. This distinguishes them from virtually every occupant of Ottawa, David Dodge included. Flaherty's policies grossly favour foreign investment demand at the expense of domestic investment demand. Fret that outcome for a moment if you will.

Rather than fretting over the wrong side of the supply/demand equation, over which he and all of Ottawa have zero control (i.e. pools of private equity), perhaps he and his office would be better served by acknowledging the true "supply side" of this equation, namely the income trust market and near income trust companies like BCE and Telus that our "its not my fault" Minister of Finance, The Honourable Jim Flaherty has fattened up for slaughter. By this, I am referring to Flaherty's foreign private equity friendly measures, whereby he:

(1) cratered the value of the $200 billion income trust market, by imposing a tax of 31.5% on every public income trust, yet there is no such tax on the myriad number of other tax flow through entities in Canada, including private income trusts owned by pension plans.

(2) imposed central planning style growth restrictions on income trusts while in the hands of average Canadians, but no such growth restrictions when transferred to the hands of foreign private equity or any other ownership arrangement.

(3) eliminated the 15% withholding tax that would otherwise be paid by the largest pools of leveraged buyout loans, namely foreign lenders and foreign capital providers.

Despite his intellectually vacuous argument "it's not my fault", these three measures of Flaherty's are certain to triangulate a most undesirable result: a vastly increased supply of now highly vulnerable Canadian companies ripe for the pickings.

Yes that's the supply side of the equation, whereas foreign private equity is the demand side of the equation.

Fretting is one stop shy of "it's not my fault". Time for the supposed straight-talking David Dodge to get his facts straight and speak the truth. Flaherty is grossly incompetent and his actions on all fronts are undermining the economic sovereignty of our country.

Does that fall within the Bank of Canada's mandate?

One last question. How many Canadians does an association have to represent before they get an audience with the Governor of the Bank of Canada?

Is one million plus sufficient?